Combining operational flexibility with affordability.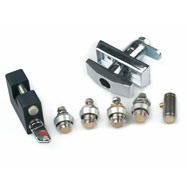 Installing uniquely-coded locks onto your vending machines will ensure that only your staff can gain access to your machines. Having the same coded locks on the various make and models that are operated by your company would mean that your staff need only carry one key to gain access to their machines, enhancing security and cutting down on wasted time.
The Giussani locks are available in a wide range of sizes, allowing for one lock and key system to be used for a wide range of machines, simplifying key control management for operators through single key access for all machines.
This secure vending lock and key system offers the operator a programmable locking system at an affordable price and is a popular choice of locking system to many of our customers throughout the world as a result.
Should your keys be lost or stolen, lock codes are quick and simple to change in the field, using a change key.
This enables codes to be set to a new unique customer code, without the need to physically change the lock.
Other locking systems on offer through Safer Systems, include the Van Lock system and Rielda. For a detailed review on your operational needs, please contact Safer Systems and we will be happy to provide a specific locking system for your business, its budget and operation.